History of Coolnafranky House
History of Coolnafranky House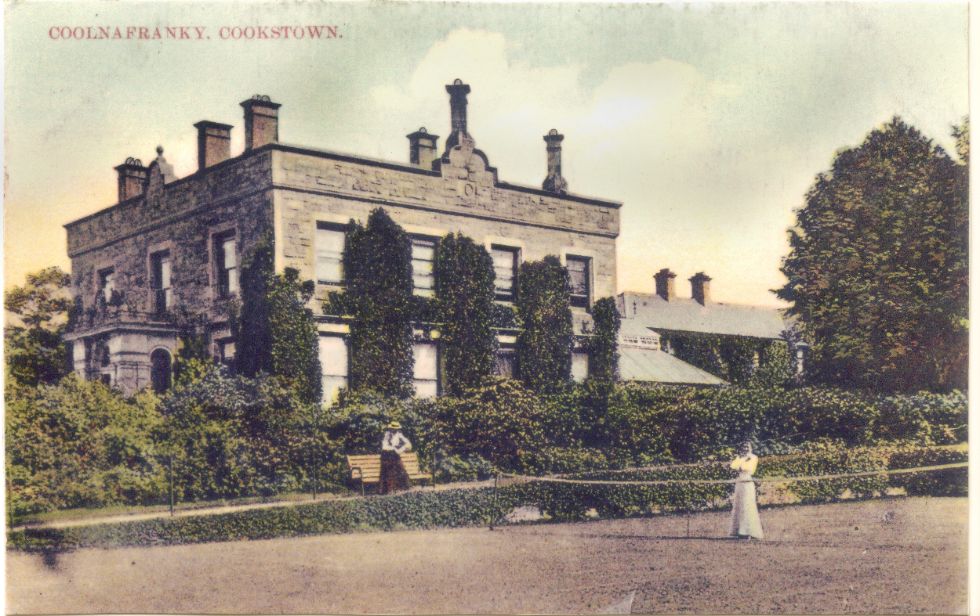 "Coolnafranky House was built in 1858 for James Gunning, who, in partnership with James Moore, had bought much of the Stewart (of Killymoon) Cookstown estate in 1851. Originally known as Loymount, the house is recorded in the 1859 valuation, with the rateable value, £60. The identity of the architect is not known. John B. Gunning-Moore succeeded to the property in 1877 and a year later built the gate lodge at the head of the main drive to the north. In 1890 a 'new peach house' is noted by the valuers as having been added to the property, but no other major alterations are recorded hereafter. Coolnafranky passed to (or was acquired by) an Isabella Roche sometime between 1930 and 1935. It remained with Ms Roche up until 1951, when the house and its grounds were acquired by the Tyrone Education Committee for the building of the present school complexes."
Note; The above text is from Historical Listing data (B1 listed building).

The property is built primarily of Buff-Pink Sandstone, (sourced from Cookstown) and secondary from Blonde Sandstone (sourced from Glasgow). The entrance porch is surmounted by a decorative castellated parapet with a decorative oculus (perhaps originally intended for a plaque, now missing).

Mr Gunning was also the owner of the weaving Factory off Orritor Street (current location of Tescos etc.) The house and the factory were described in 1880 COOKSTOWN Directory as ...
"The site of the mansion of Loymount, the property of J. B. Gunning Moore, Esq. J.P. is the finest about the town, It having a view of a large part of Co. Antrim, as well as of the Lough Neagh."
"At Millburn Works, near the town, John Gunning & Son, have a power loom weaving factory for the manufacture of plain linens. diapers and damask, which contains over 300 looms and when in full operation which gives employment to over 500 people. They have also added a large beetling & finishing concern that is driven by steam power [Wellbrook].

Cookstown High School, Coolnafranky Estate, Molesworth St, Cookstown, Co. Tyrone BT80 8PQ | Phone: 028 8676 3620