Santa Dash
18th Dec 2019
Christmas offers all sorts of opportunities for fundraising. One key event that has become increasingly popular in recent years is the Santa Dash. All sorts of organisations, clubs and charities are finding it the perfect fundraiser and a great way to have a bit of fun. After the success of our Colour Run last year, the Parent, Teacher and Friends Association decided to host a 'Santa Dash' fun run to get us into the festive spirit in December whilst raising funds for school projects.
Wednesday 18th December was our chosen day for the Santa Dash and despite the ever changing weather conditions forecasted, the event went ahead as planned. It was all hands on deck though to get things organised as we had to pull the event forward to earlier in the day as high winds were on the horizon for the afternoon. The Santa Dash saw 274 pupils and staff walk, run, jog and walk their way around the school grounds. All pupils and staff were kitted out in a Santa hat and beard and made their way around the course while trying to avoid the arctic blast of snow from our snow machines.
The event finished with a snow disco along with some hot chocolate and marshmallows to warm us all up. All pupils and staff seemed to have a fantastic time, despite the weather, and everyone was certainly in the festive spirit by the time they finished.
Thanks to all the staff and pupils who took part or helped out and also to the PTFA members for organising the event.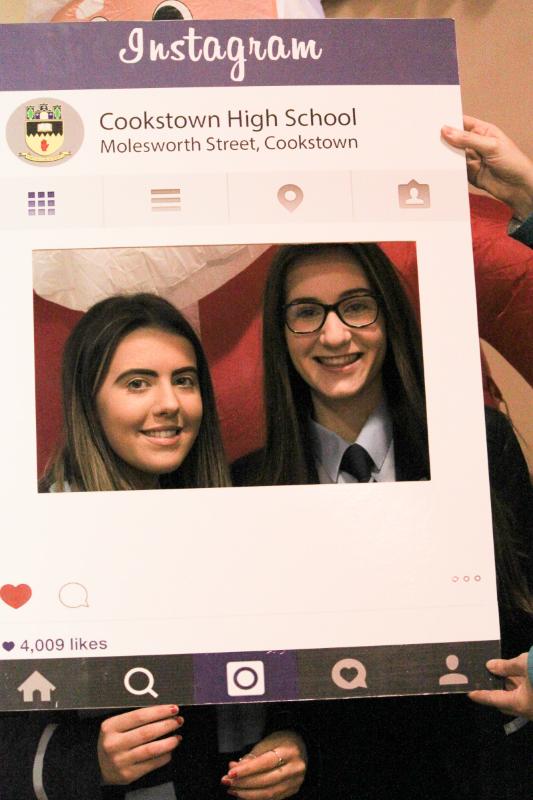 Cookstown High School, Coolnafranky Estate, Molesworth St, Cookstown, Co. Tyrone BT80 8PQ | Phone: 028 8676 3620