A level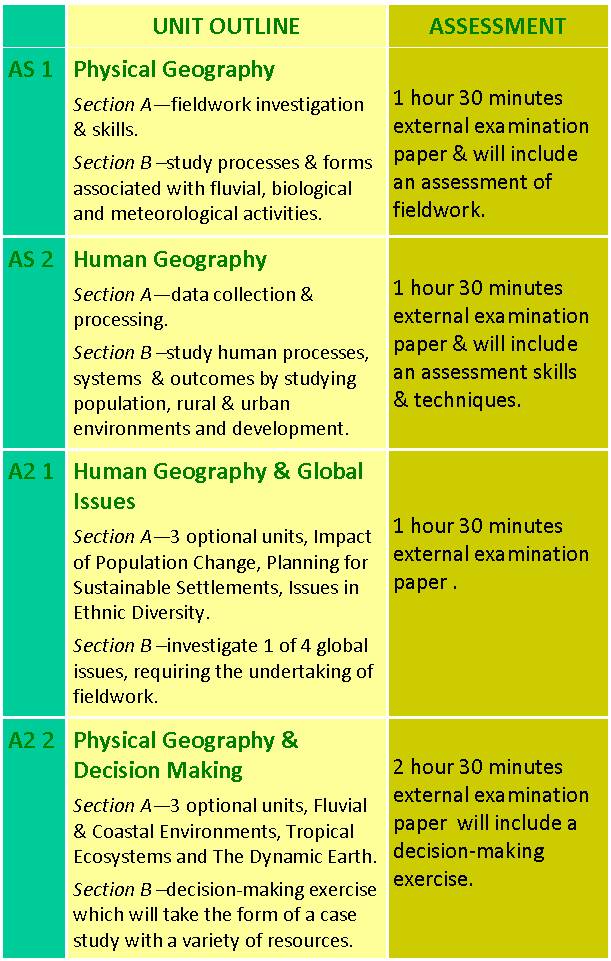 Exam Board: CCEA
Course Description
By studying GCE Geography you will learn about geographical concepts and processes, interactions between people and their environment, the challenges of sustainability and the importance of attitudes and values.
Through studying human and physical geography topics at AS level and A2, students explore:
The dynamic earth, its structure and how landscapes are created;
Interactions between people and their environment;
The challenges of sustainability; and
The importance of attitudes and values.
Geography is relevant, stimulating and interesting- this course will provide you with the opportunity to gain transferable skills such as communication, teamwork, analysing, investigation, IT and map reading.
If you are interested in the world around you and would like to understand more about different cultures and environments that surround you, then GCE Geography would be an excellent choice of study.
The Geography Department at CHS is innovative, engaging and aims to challenge students to think about the world around us. The department uses Magilligan Field Centre to aid the development of fieldwork techniques and skills. Geographical enquiry is an essential component of the GCE course, and our classes complete fieldwork on coastal processes, sand dune ecosystems, tourism and air pollution as part of their AS and A2 courses.
Geography is a subject that helps young people into work. Many employers prize the knowledge and skills that studying geography can provide and geography in higher education is thriving.
AS 1:

Physical Geography

Rivers, Ecosystems and Weather & Climate

1 hour 15 minute exam

AS 2:

Human Geography

Population, Settlement and Development

1 hour 15 minute exam

AS 3:

Fieldwork Skills & Techniques in Geography

Collection of data through fieldwork, using statistical and graphical techniques and applying geographical skills.

1 hour

A2 1:

Physical Processes, Landforms and Management

Plate tectonics, ecosystems, coasts and climate change (study two out of the four options)

1 hour 30 minute exam

A2 2:

Processes and Issues in Human Geography

Cultural geography, sustainable settlements, ethnic diversity and tourism (study two out of four options).

1 hour 30 minute exam

A2 3:

Decision Making in Geography

Skills and techniques developed throughout the course are assessed using a case study set within a real world context.

1 hour 30 minute exam
Cookstown High School, Coolnafranky Estate, Molesworth St, Cookstown, Co. Tyrone BT80 8PQ | Phone: 028 8676 3620