Overview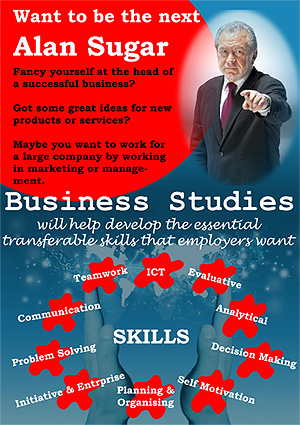 Business Studies is possibly the most dynamic subject on the curriculum. Each lesson is associated with what is happening in the economy/country/world today. It is made up of Macroeconomics (looking at business as part of the economy) and microeconomics (looking at the internal function of business).
If you have an interest in Business and current affairs then Business studies could be the course for you.
In Business studies we prepare students for university life, promoting independent learning through research and encouraging presentations where possible to develop skills with confidence.
Various teaching resources are used from up to date text books to an array of IT resources.
Business Studies fits particularly well with subjects such as IT, maths, languages, art and technology.
Assistance is available throughout the course from business studies teachers, the learning resources centre and a list of helpful websites.
For further information follow this link http://www.ccea.org.uk/business_studies/
Cookstown High School, Coolnafranky Estate, Molesworth St, Cookstown, Co. Tyrone BT80 8PQ | Phone: 028 8676 3620